Zip Specialties Inc.
Awards
Promotional Products
Personalized Gifts Engraving
Industrial Marking
Laser Cutting
Improve traffic at trade shows
Motivate staff
Thank a customer or employee
Increase safety awareness
Reward Special Individuals
Featured Item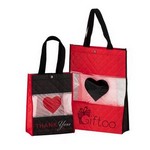 The Loveable Bag - 12"x16"
This bag can be ordered as shown or fully customized to meet your specifications creating a unique bag design for your clients. Custom options include : bag style and size, handle, closure, logo, fabr...